For those who don't know, there is a HUGE pool of amazing talent at the Romance Divas. So I'm always thrilled to help fellow Divas promote their new releases. Seriously. There are some wonderful books being written by my Diva friends.
Check out these two: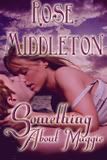 SOMETHING ABOUT MAGGIE
By Rose Middleton
When the love you've been searching for has been there all along…
Determined and driven, scientist Maggie Walker is used to getting what she wants—except when it comes to love. Ever since her best friend, Jack, gave her that first embarrassingly disastrous kiss at age fifteen she's yearned for a second chance to show him that they could be so much more.
Now Jack is a jet-setting freelance photographer with an enviable lifestyle. For years he's been travelling around the world to exotic locations, but when he comes home to Melbourne Maggie's always been able to count on him to be the same dependable, predictable Jack…but not this time.
From the moment Jack's plane lands he begins to see Maggie, the one person in his life he's always been sure of, in a different light. Could it just be that for the first time in a long time both Jack and Maggie are single? Possibly, although it seems to be more than that. Something unexpected has happened, something that's awakened long ignored desires and hidden passions, something that can't be ignored. This time there's no denying it, there's
Something About Maggie…
Available April 1, 2008 from
Linden Bay Romance
Read an
excerpt
She believed the man didn't matter as long as he said yes - until the wrong man vowed to love her beneath....
All the Trees in Pearl
by Emily Ryan-Davis
Available March 21 at Ellora's Cave
Signed and paid for by one brother.
Ethan Carver didn't order a wife, but he couldn't turn away from Margaret Redde's lush mouth and proper manners. Could he keep up his brother's deception and make her stay?
Set on fire by the other.
She wanted security and didn't care where it came from - one brother was as good as the other - until Ethan touched her. One night in his arms changed everything. His hot kisses sent her up in flames and taught her desires she didn't know she possessed.
Read an excerpt today!
Go Ahead, Share Your Thoughts! .