Please join us at
Romance Divas
THIS WEEKEND!
Friday October 10th and Saturday October 11th, we will be joined by some huge names in fantasy and fantasy-romance for a workshop on what the difference really is between the two genres.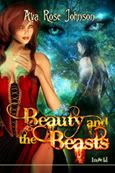 Beauty and the Beasts
by
Ava Rose Johnson


They don't just want her for the full moon...they want her forever
For centuries the Kingdom of Drayzlake has been divided between the humans and the wolves. But when a wolf crosses the Divide and bites the humans' princess, all hell breaks loose. With wolven blood now running in her veins, Princess Abigail is forced to mate with a wolf every full moon. What she doesn't realize is that she is mating with two wolves rather than one. Caine and Stavros are identical twins and soon-to-be Alphas of their pack. And they're tired of taking turns.
So on one moonlit night after another vigorous mating session, Abigail finds herself kidnapped to the wolves' quarters. Trapped in their fort she can't deny the two beasts who desire her so, and locked between their powerful bodies she can hardly remember her own name. But it soon becomes clear that these sexual games are as dangerous as they are delicious. Because Caine and Stavros don't just want her for the full moon…
Read an Excerpt/Buy