...but not doing a whole lotta writing. *sigh*
Before anyone shakes a finger at me, though, I think I should mention that I've given my website a much-needed facelift, including a brand new header graphic. And I updated all the pages.
Plus, I've done some shopping. Shopping is always fun.
Okay, so I need to share this, because it's too cool and I'm uber geeked. Showing my sewing geekness here, so if that bores you, I won't be upset if you move on to someone else's blog.
In October, I'm heading to RomantiCon. This year's theme is the roaring 1920's, Great Gatsby, flappers, mobsters, that kind of thing. So, I've been hunting around the web, looking for inspiration. My first thought was to buy a beaded flapper dress. I found a couple of websites, including Unique Vintage, that sell them, but whoo-boy are they expensive and this girl's got a budget. Not to mention, the dropped waist style isn't very flattering on a girl who has an hourglass figure. A dress with no waist makes me look like I've gained about thirty pounds. Not the effect I'm going for.
So I decided I'm going to make something instead.
Hours and hours...and hours later, I stumbled upon a photograph that made my head spin. It's THE DRESS. *swoon*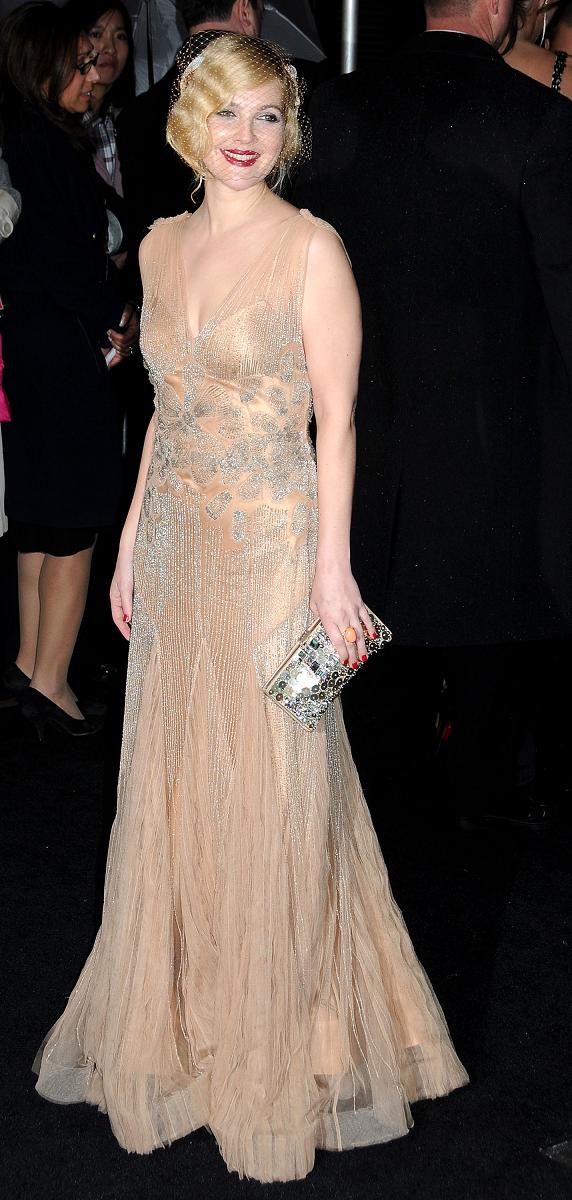 I found a very pretty embroidered organza to use as an overlay, but I need to find something for the skirt's godets and I think I'm going with a copper taffeta for the lining, something a little darker than our girl, Drew. She looks gaw-jus, but I couldn't pull off that head to toe one color note as well.
So, that's all I have for now.
What about you? Have any news you want to share? Special shopping finds you're particularly proud of?
Go Ahead, Share Your Thoughts! .