Next up is Eden Bradley's latest release. I have LOVED every Eden Bradley book I've read. And OMG, this one looks like it's a hot and scrumptious as all the rest.
Enjoy!
Tawny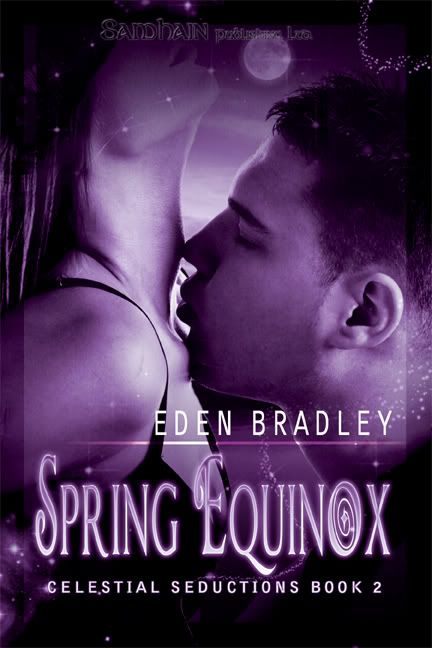 My latest book from Samhain, SPRING EQUINOX, is out today! This is Book Two in my Celestial Seductions series, a four-book seasonal collection of contemporary erotic romance novellas, and each one has a special little twist.You can find Book One, WINTER SOLSTICE, at Samhain, on MBAM and on Amazon.
But back to

SPRING EQUINOX

. Would you like a little peek?

Once upon a time, two young lovers vowed to reunite…
Celestial Seductions, Book 2
After a bitter divorce, Isabel Asher returns to Isla de Margarita to find the only man she's ever truly loved. Twelve years ago, on her eighteenth birthday, they made a pact to meet…if they both were free. Now she waits, wondering if Rafael Cruz will be her every fantasy come to life…or just a foolish dream.
Rafael never forgot their summer of love all those years ago. Since then, no other woman has measured up to the memory of Isabel in his arms. Their chemistry is still stunning, the sex is sizzling. The power of their memories is overwhelming. Yet it's too soon to tell if she wants to be with him as much as he wants her.
As her time on the island grows short, their sensual play heats up, and includes a night with Rafael's best friend. But they must decide if their passionate reunion is simply a celebration of the past…or a new beginning for lasting love.
* * *

To celebrate my release, I'm running a contest and posting an excerpt over on The Smutketeers blog, so come on by and check it out!
EXCERPT -SPRING EQUINOX-Eden Bradley- Mildly X-Rated
Silently, he moved away from her. Taking her hand, he led her across the courtyard, through a narrow, tiled walkway, to a private bungalow at one end of the hotel. Her pulse raced, her heart hammered a sensual cadence in her chest, in her sex, as she realized what was about to happen. He would finally be naked with her, touching her, just as he had done in twelve long years of fantasies.
She knew already it would be a hundred times better now, as adults, than that one lovely, sweet experience had been. It would be better than anything she had ever imagined.
He opened the heavy wood door and pulled her into the cool interior of his home. One small lamp cast a golden light over the tiled floors, the heavy beamed ceiling, the potted palms set here and there. Through a wall of windows overlooking the beach she could hear the muted roar of moon-tipped surf. But she wanted to concentrate only on him. She would explore this lovely place later.
He stood with her a moment in the entry hall, watching her, a small smile on his lush mouth. His gaze was dark on hers.
"You're more beautiful than ever, Isabella."
His words warmed her, but she didn't want to talk anymore. As though he could read her thoughts, he moved in and kissed her again, his hands going to her cheeks, then sliding down to caress her shoulders, her arms. His touch was pure heat, lighting up her skin. Electric, as though every nerve was acutely attuned to his touch.
When he pushed his tongue into her mouth, just slipping it between her silken lips, opening her up, she went warm and loose all over. The warmth quickly turned to volcanic heat when his hands moved in to cover her breasts, the weight of them filling his palms. She groaned into his mouth, pushed her body closer, her hardening nipples pressing into his hands.
God, she needed to be naked with him, needed to feel his touch on her bare flesh.
"Rafael, please…I can hardly stand it."
"I'll give you whatever you need, Isabella. I'll give you everything. But it's been so long, and I want to get to know your body again."
That name. Isabella. No one else had ever called her that, only him. His voice, and that lovely rolling accent…hearing that name on his lips sent a long, lovely shiver through her: her breasts, her sex. Her heart.
Don't expect too much. Just be in the moment.
The moment was too lovely to ignore. He moved his hands away from her aching breasts and smoothed them over her waist, her hips, tracing the outline of her body.
"Yes, it's still you, but more lovely curves." He sounded almost reverent as he whispered against her mouth. "More a woman."
His hands slid downward, his fingers moving beneath the hem of her cotton dress and roving up her thighs. The moment his hands touched her naked skin her sex went wet, drenched in heated desire.
Touch me.
"Your skin is like silk, just as it used to be." His voice was a husky whisper, turning her on every bit as much as his hands on her body.
Then he was kissing his way down her neck, in the valley between her breasts, over her stomach through the cotton of her dress, until he was on his knees before her, his cheek against her belly. Her hands went into his hair, and it was soft beneath her fingers. She was shivering, the anticipation sharp, lovely.
His hands were on her thighs, gently kneading the skin. Then he raised the hem of her dress higher, revealing the white lace panties she wore. She wanted to keen her need to him, to beg him. But she remained silent, the waiting an exquisite kind of agony.
"There's so much heat coming off you, querida, it drives me crazy. The scent of your desire…mi Dios…do you know what you do to me?"
All she could do was groan as he bent his head and kissed her bare stomach, just above the white lace that was so unbearably in the way.
He kept kissing her, his mouth leaving a trail of molten heat across her belly. Her hips moved forward of their own accord, pressing into the velvet warmth of his lips. Her body was on fire, the need a scorching heat that centered in her sex and spread outward, breathtaking in its intensity.
"Yes," he said quietly between achingly soft kisses, "I think you need me, as I've needed you, for too long."
His voice, his mouth on her flesh, was driving her crazy. She wanted her clothes off. She wanted that soft mouth on her breasts, on her sex, swollen and burning with need. Why wouldn't he undress her?
When he looped a finger around the edge of her panties and pulled them in a slow, sensual sweep down over her thighs, her calves, taking his time, her legs began to shake.
On his knees, he pushed her until she felt the wall behind her, warm from the heat of the day, steadying her. Then he pushed her dress up, the fabric bunching around her waist. He was so close to her she could feel his breath on the curls between her thighs, and her pussy clenched in anticipation. She closed her eyes, let her head fall back against the wall and waited.
He didn't move, yet she could sense the change in his breathing as he knelt before her, his face inches from her sex.
"Isabella. Move your legs apart for me. I need to see you. All of you."
God, that voice again. She did as he asked instantly. And she felt, for the first time, the power in his command. That some part of her was giving herself over to him on every level. That she would do—willingly—whatever he asked of her.
"Ah, yes." He brushed his fingertips over her curls, so that she could almost feel his touch, but not quite. Torture. She'd never been so wet in her life. "So beautiful. I want to taste you, querida, and I will. But later."
"Rafael, you can't do this to me…"
Oh God, was he really going to make her wait?
"Patience, mi cariño. I've waited too long to rush this."
"You're teasing me."
"Perhaps I am." He smiled up at her, that lovely smile that felt so familiar to her.
Yes, they'd waited too long. But maybe it had been necessary, to bring them together again with a little life experience under their belts. But she was too dizzy with need to think about it. Now, all she needed was him.
"Touch me, Rafael, before I lose my mind."
Go Ahead, Share Your Thoughts! .