Once again, I am thrilled to offer another wonderful excerpt for you all to enjoy! Isn't this cover absolutely GORGEOUS?!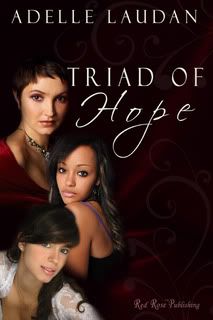 Triad of Hope


Juliana, Rosa, and Shani—three very different women with a common bond: all are on a journey of healing, self-discovery, and hope. Join them as they conquer fears, forgive past wrongs, and come to terms with their inner selves. Do difficulties in life really make one stronger? Can a shattered heart ever heal enough to love again? When one's life seems hopeless, what lengths will one go to find hope?

Excerpt from 'Shani'

Jake sat at the small table in Mitch's kitchen of sorts and studied the sleeping Shani's face. Gone was any trace of the emotional drama of the previous night. Smooth, like creamy chocolate, her face void of lines or scars, lips full and inviting. Long lashes rested on cheeks tainted pink. Under the blanket, her chest rose and fell in rhythm with the beating of his heart.

How long had he loved her? He couldn't remember a time when he hadn't. All those years through school they were practically inseparable. They'd been the best of friends, and the whole while he'd wished for more but didn't dare cross the invisible line for fear of rejection and ruining the friendship he'd come to rely on.

As if overnight, she was gone. Her mother died, and her father set off on his Harley. Shani did what she did best when things got tough—she ran. Without so much as a good-bye, she left. A couple of months later, he received a short note saying she was fine and she missed him. Did she miss him? Unfortunately not enough not to marry someone else. He spent many months angry and hurt, but he immersed himself in his studies, and when he made enough money, he bought his own bike.

Shani mumbled in her sleep and rolled to her side, her arm flopped over the side of the couch. Now she hated the one thing he found most beautiful about her appearance…the color of her skin. How tragic. He prayed her mother's words would change her opinion. Becca had a way of making everything seem all right, even in the midst of chaos.

The door to Mitch's room opened, and he appeared in the doorway, his yellowed hair a tangled mess sprouting this way and that. He ran a weathered hand through his wiry beard and yawned. Dark circles under his wise old eyes told of a restless night's sleep. How he loved Shani, the proof never more evident in the toll her pain had taken on him.

Mitch placed a finger to his lips and crossed the distance between them.

"Coffee's hot," said Jake in hushed tones.

His old friend smiled and took a cup from the cupboard and filled it. He held the coffee under his nose and inhaled deeply. "Mm, nectar of the gods."

Jake raised his mug in cheers.

"How'd you sleep?" Mitch joined him at the table.

"Very little. Your floor leaves much to be desired." His hand moved to the small of his back, and he winced.

"The things we do for love."

Jake pressed his lips together, stifling a response. He couldn't chance Shani overhearing something he wasn't ready to divulge. "Do you think she's going to be okay?" He stared out the window.

Silence permeated the room for a moment.

"She's tougher than you know." Shani peered over the back of the couch, staring intently into his eyes.

"Ain't that the truth." Mitch chuckled and shuffled over to the stove. "Coffee?"

"About a gallon of it."

He'd always admired her resilience. Maybe she's going to be all right after all. How the hell does anybody get past something like that?

She stood in front of the fireplace, her arms stretched up over her head. Damn. His gaze travelled the length of her, to the roundness of her breasts, hard flat stomach…and that ass…. Jake shivered involuntarily and sucked air through clenched teeth, forcing his gaze from her. He stared out the window again, counting back from ten, willing his racing pulse to slow down.

Shani strolled over to the window and pulled back the curtain. "Looks like a nice day for a ride. How about it?" she asked over her shoulder.

"How about some coffee first?" He pushed the empty chair out with his foot. She shook her head and poured a coffee before straddling a chair at the head of the table. Her eyes clouded as her gaze settled on the unopened envelope wedged between the salt and pepper shakers.

"I can't deal with that right now." She slid the letter under a plastic place mat. "I need to feel the wind on my face. Maybe we'll get back to all that later." She tossed back half of her cup's contents in one swallow and set it down with a decisive bang. "I'm going for a ride, Mitch. Is it okay if I come back here later?"

"You know my door is always open, Shani."

She rounded the table and kissed his forehead. On her way to the bathroom, she looked over her shoulder at Jake. "I'm going to get cleaned up and then I'm heading out…with or without you."

Read more at http://adellelaudan.com/books/triad-of-hope/

Red Rose Publishing http://redrosepublishing.com/bookstore/product_info.php?products_id=625
Go Ahead, Share Your Thoughts! .